---
Congratulations! You have a new septic system. You spent a good amount of money having it put in and like any piece of equipment needs a little preventative maintenance periodically to extend the life of your septic system.
Maintaining your septic tank is extremely important. If your system fails, it can cost you well past $30k to clean up your house, remove your carpet, cut back your drywall and get your framing dried out.
As you create waste water throughout the day, it gets collected in your septic tank and moves from one tank to the other automatically. The system monitors the water level in your pump chamber and when it reaches a predefined set point, starts the pump and pumps down your pump chamber to the off switch. There is also a high level alarm that will alarm you when your pumping system is not working. If you hear this alarm, you need to investigate promptly, otherwise your system can quickly back up and cause sewer damage to your house.
This is a general overview of your system: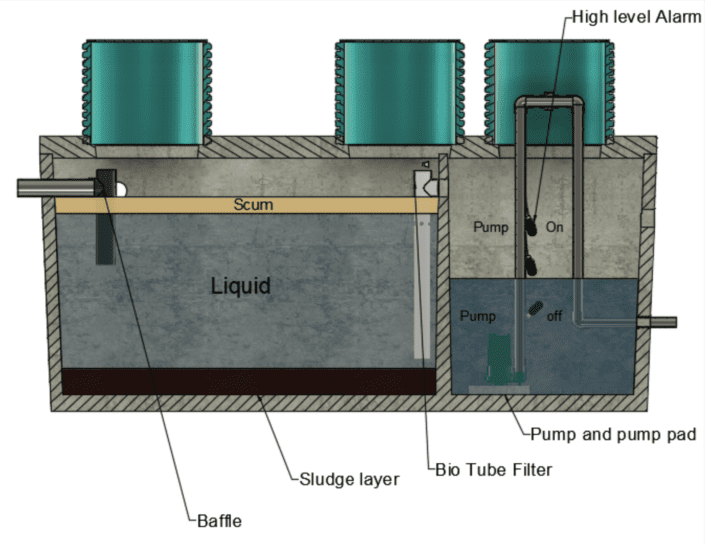 We recommend that you do the following maintenance:
2x a year push your TEST Alarm button to verify that your high level alarm works
Once a year open the filter lid and take out the filter. Clean it off with a pressure hose and reinstall
Once a year physically raise your high level alarm float and ensure the alarm sounds
Once a year inspect and clean the baffle
Every 3-5 years have your tank pumped out
If you don't feel comfortable doing these activities yourself, then we recommend that you call one of the local service providers who can do this work for you annually, such as:
A-1 Sanitation – 406-253-1151
Mel's Pumping – 406-752-5318
Pedersen Pumping – 406-752-4321
Ready Freddy – 406-752-4552
Ray Baier Septic – 406-752-6904
Surefire Septic – 406-756-1806
This is not an exhaustive list of providers, but we have heard positive things about them and worked with them in the past.